Minety Festival 2019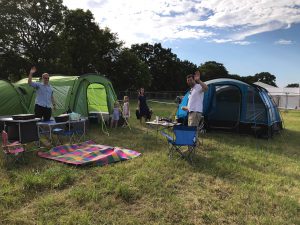 The Proposito Team were super-excited about our annual trip to the Minety Music Festival. Now in its 3rd year it ran from Friday 5th to Sunday 7th July 2019. As in previous years the team decided to camp with their families to maximise the fun.
This year was our first year as outsiders – we moved from the office in the Village in July 2018. Despite this we were still delighted to be one of the sponsors. The Festival is a not-for-profit event raising funds for Wiltshire Air Ambulance, Naomi House & Jacksplace Hospice and Minety Primary School and Pre-School. It is manned by an army of volunteers from Minety and the surrounding villages. One of our clients was the on stage compère for the whole event – and he was a little hoarse by the end (although that might have been the cider).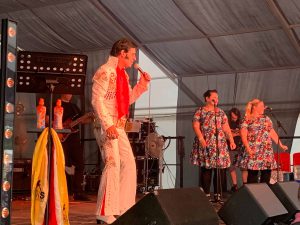 A sellout over the weekend, with over 2000 attendees across the three days. We were treated to some amazing acts with the Friday night headliners of Elvis and Abba tribute acts. Saturday saw the Faux Fighters and Republica as the finale, and Toploader had everyone Dancing in the Moonlight on Sunday night.
Huw's particular favourite was Sound Affects who played at his wedding in 2004. He only knew they were there when he bumped in to the singer at the bar!
With beautiful weather and relaxed family feel the charities should benefit from a healthy donation.
The festival organisers are already planning for next year and we can't wait.